Hasliza Omar started a PhD in nuclear engineering to escape the volatility she had experienced in the oil and gas sector after working on offshore rigs for five years.
After witnessing waves of redundancies Ms Omar, 35, saw nuclear as a chance to advocate for a new, clean energy option, although it was often seen as taboo.
Now that Australia is acquiring nuclear-powered submarines under the $368 billion AUKUS deal, she hopes there will be lots of stable, well-paying jobs available.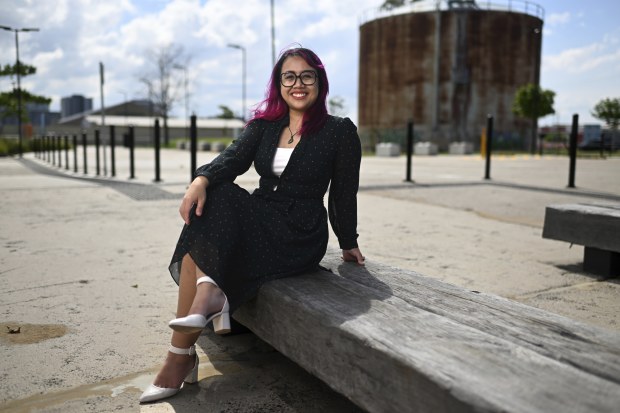 The race is on to upskill hundreds of nuclear engineers and nuclear scientists to help build, service and maintain the submarine fleet.
Tradespeople such as electricians, welders, fitters, and boilermakers, will also be in hot demand as a result of the trilateral AUKUS partnership between Australia, the US and UK.
"There is a lot of skill and expertise that we need to drive this nuclear industry in Australia," said Ms Omar, who is studying at UNSW in Sydney.
"I'm more hopeful about having an opportunity to remain in Australia and contribute as part of the workforce in the Australian nuclear industry."
Edward Obbard, who heads the nuclear engineering program at UNSW, has estimated that 8000 people will need some sort of nuclear training to crew and service the submarines, including 200 experts in nuclear technology to make top-level decisions.
Given nuclear power has been banned by legislation since 1998, those experts will probably have to come from the US or UK, at least in the short term, he said.
A "middle tier" of 4300 senior professionals with seven to 10 years' experience will also be required, including senior scientists, electrical and mechanical engineers, technical managers, reactor operators and even health physicists.
The first wave of hiring activity will be connected to the large infrastructure projects in Western Australia to support the rotation of more American submarines and the construction of shipbuilding facilities in South Australia.
Australia will embed hundreds of workers including tradesmen, scientists and engineers in shipyards and technical facilities in the UK and US to gain the specialised skills and training needed to build and sustain nuclear-powered submarines.
Defence recruiter Rob Kremer said the process was likely to be similar to that adopted with the now defunct Attack Class submarine program, which involved large numbers of engineers and production specialists being sent to France to learn how to design and maintain submarines.
"Workers who were seconded to France for training in submarine design and construction received generous relocation and remuneration packages to support them and their families," Mr Kremer said, who is the director of specialist recruitment firm Kinexus.
Defence companies that have successfully navigated the skills shortage in recent years have lured workers from sectors such as resources, rail, automotive, and aerospace, Mr Kremer said.
"A fair proportion of these specialists that they take overseas won't come from a naval shipbuilding background, but they will have experience in those engineering, project management or commercial skill sets either from Defence or from adjacent sectors."
In response to the AUKUS announcement, South Australian universities have refocused their curriculum to include nuclear engineering.
The University of Adelaide announced it will update its Master's in Marine Engineering course, which includes a focus on submarine design and operation, to include nuclear technology.
"This course will be updated with a new focus on nuclear propulsion to address the specific needs of a nuclear submarine capability," vice chancellor Peter Hoj said.
The university also teaches a postgraduate course in radiation management which will be adapted to the requirements of the nuclear submarine enterprise.
The University of South Australia has developed an MBA in Defence and Space targeting uniformed and non-uniformed personnel from small and large defence companies, government, and adjacent industries from AUKUS and other allied nations to develop the workforce capabilities required for this new era.
Ms Omar studied a bachelor of mechanical engineering and worked in the oil and gas industry as an offshore pipeline engineer for five years, but after seeing her co-workers laid off when project work dried up, she decided to enroll in a masters in sustainable energy at the University of Queensland.
During her studies she was struck by the lack of discussion about nuclear power as a viable energy option in Australia and chose to specialise in the field, which led her to enrol in the University of NSW nuclear engineering program.
Ms Omar is also hopeful that the acquisition of nuclear-powered submarines could help change public perception of nuclear energy, saying the HBO series Chernobyl "doesn't really help".
"I feel like the AUKUS deal could help us to have a much more open and accurate discussion with the public," she said.
Defence experts believe the navy is likely to introduce a specialist pay scale for newly acquired nuclear-trained workers.
Source: The Australian Financial Review