The Malaysian actress also visited her father's grave with the Oscar trophy.
A month after making history at the Academy Awards, Michelle Yeoh has taken her Oscar trophy home to Malaysia, fulfilling a promise she made during her acceptance speech.
The Everything Everywhere All At Once star on Wednesday (Apr 12) shared a photo of her mother holding the golden trophy aloft.
"Brought Mr O home … Without my parents' love and trust and support … I wouldn't be here today … love so much," Yeoh wrote on Instagram.
In her acceptance speech for the best actress award last month, Yeoh dedicated her achievement to her 84-year-old mother. She is the first Asian actress to win the accolade in the 95 years that the Academy Awards has been in existence.
"I have to dedicate this to my mum and all the mums in the world because they are really the superheroes and without them, none of us would be here tonight.
"She's 84 and I am taking this home to her," she said.
Shortly after addressing the Dolby Theatre in Los Angeles, Yeoh made a video call to her mother, Janet Yeoh, who watched the ceremony at a live viewing event in Kuala Lumpur.
The Ipoh-born actress on Wednesday also shared a photo of the Oscar next to her father's grave. In the background, various offerings and a person holding joss sticks could be seen.
It is currently the Qing Ming festival, also known as the tomb-sweeping festival, when families visit the graves of their loved ones and ancestors to pay their respects.
According to a report by the Malay Mail, Yeoh returned to Malaysia on Saturday to mark the occasion before flying off to Hong Kong just hours later.
Yeoh will be back in Malaysia later this month for a fan meeting at Pavilion Bukit Bintang in Kuala Lumpur. It will take place on Apr 18.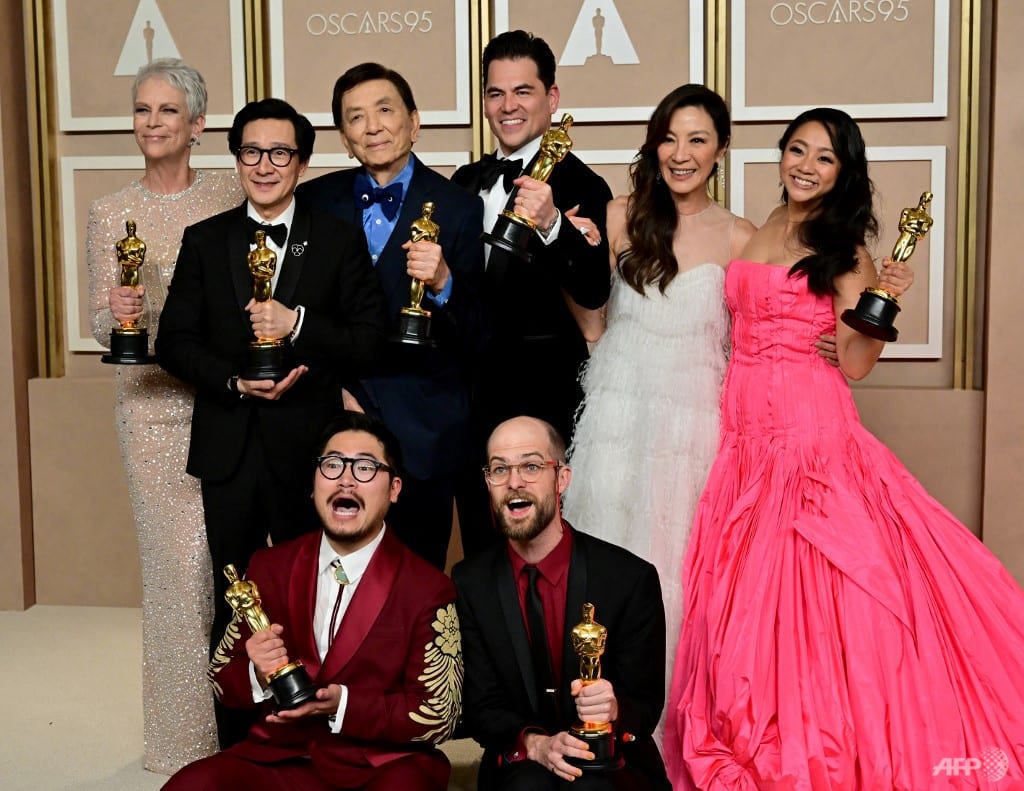 Yeoh won the award for playing harried laundromat owner Evelyn Quan who's thrust into the multiverse while trying to finish filing her taxes.
Ke Huy Quan, who plays her husband Waymond Wang, also took home the best supporting actor trophy. Quan is beloved for his roles as Short Round in Indiana Jones And The Temple Of Doom and as Data in The Goonies.
Everything Everywhere All At Once left the Academy Awards with seven Oscars, including for best picture, best director, best supporting actress, best original screenplay and best film editing. 
Source: Channel News Asia